Skip to Content
Requirements Discovery & Participatory Design
Better Results From Active Involvement
As agencies and organizations rely on design innovation for every application of their mission, they often sacrifice perspective and the full value of human-centered design. Data becomes limited to the early research or late discovery phases, while the innovation – where the ideas are born, tested, and perfected – is left solely to a single team of specialists. Peterson Technologies offers the inclusive solutions agencies need to get involved in every aspect of the process, research, design activities, and decision-making to shape the final outcome to their unique needs. Through our Requirements Discovery & Participatory Design services, we bring you into the heart of co-creation and cooperative design to forge a mutually beneficial partnership in the initial discovery and subsequent ideation phases of a project. Through this process, we gain a better understanding of your needs and make preemptive changes designed around you.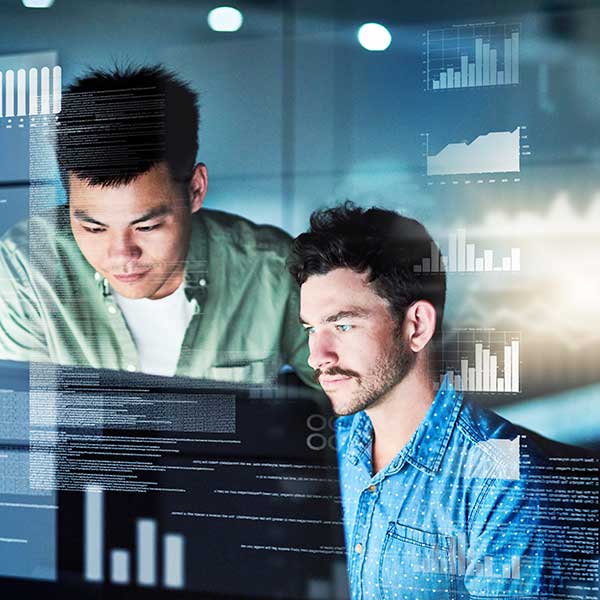 The Requirements Discovery & Participatory Design Process
Peterson Technologies' "UML Distilled" engineers collaborate with mission experts and stakeholders to explore, define, and capture their mission needs. We recognize that sharing the vision of the final product with the customer may be the most significant contribution to successful systems development. We continually provide our Scrum Masters and cleared personnel with the necessary training and tools to ensure effective requirements engineering and systems design.
By collaborating closely with our clients, we gain new insights into the experience, helps us to focus our efforts for better results, and incorporate beneficial ideas as actionable inspiration for the solutions created. Whether engineering software or systems, conducting in-depth analytics in real-time for your Big Data, or procuring materials for your IT solutions, we move past "working for you" and work with you for the customer-centric experience you deserve.
The Benefits of Requirements Discovery & Participatory Design
Requirements Discovery & Participatory Design is personalized, anticipatory, and centered on a more immersive experience. Working with you, our engineers can eliminate assumptions and suppositions on both sides to save time, energy, and effort and collaboratively move toward the ultimate security and modernization goals together. Peterson Technologies goes to great lengths to garner input and create a real opportunity to create personalized solutions and not just ask you about the elements you desire. We find this type of co-design has very beneficial impacts on teams and agencies, including:
Important Development Nuances
With Requirements Discovery & Participatory Design, we forego the development of a more general, albeit streamlined, solution for one that is more aligned to your unique needs down to the minutest detail. With personalized, proactive suggestions, our work becomes more intuitive, capable, advanced, and tailored to your agency's specifications.
Journey Mapping
Even with an abundance of independent research and information, your project design parameters could be incomplete. Requirements Discovery & Participatory Design let you outline important considerations, such as pain points, context, frustrations, and areas of opportunity for improvement. Our work becomes richer for your involvement, rather than us basing our developments on stand-alone, reactionary instances.
Advanced Innovations
Empirical research has proven specialized teams create more innovative concepts and ideas when working in a collaborative environment. Our engineers and other creatives can generate exceptional ideas in a short amount of time, bringing new perspectives, talents, and experiences to almost any project. Contact Peterson Technologies for Collaborative Requirements Discovery & Participatory Design
Without collaboration, we lose the opportunity to create personalized, customer-centric solutions and acquire better results. Peterson Technologies offers a better path to tech strategy definition and perspective-based processes for your architecture solutions. Reach out to us today to schedule your initial consultation and use our knowledge and experience to build a safer world. Contact us to schedule your consultation.
Need Software Solutions? Contact Us Today!