Skip to Content
Join the Growing Team at Peterson Technologies
Cyber defense is a rapidly growing industry. More agencies are looking for talented, trained experts to secure their networks and data, develop innovative software to make processes more efficient, and provide ongoing, multi-tiered support to maintain and improve their day-to-day operations.
Peterson Technologies is looking for talented, motivated individuals like you to join us in these efforts and build a rewarding long-lasting career.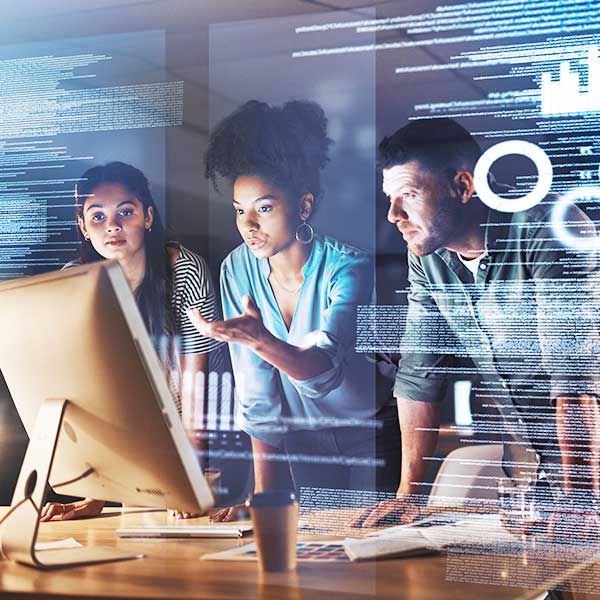 Team of Cybersecurity Professionals
Working here, you'll be an essential member of a team of cybersecurity professionals. You will develop the skills to overcome a broad range of incredibly challenging technical issues facing the Intelligence Community today and work to improve the systems that keep our country and its citizens safe. As a company, we're always working to enhance network intelligence and discover new and exciting ways to help our customers meet their goals. Working closely with clients, Peterson Technologies goes deeper, supporting them in the most complete ways possible through a variety of essential services, including:
Software & Systems Engineering
Analytics
IT Support Services
And more
A Better Working Environment
But more than just the fascinating work in many advanced fields, our company strives to make a healthy working environment our top priority. We stay committed to offering all our employees a balanced work/life experience, including a comprehensive benefits package to cover all their needs. We know our experts are our greatest resources. That is why we work to create the ideal work environment to nurture their gifts and provide the meaningful professional experience they expect from a global leader in advanced tech.
Current Opportunities
Have you been considering a career change? Want to put your skills to use in a cutting-edge field? A career opportunity at Peterson Technologies may be the right move for you! Take some time to explore all the opportunities we have available for talented tech professionals, then reach out to us for more. The career you've been waiting for may just be waiting for you. Browse our current career opportunities.
Come Join Our Team! Contact Us Today.